DIY PreCut Sauna Kit
Please send us an email with the depth, height, and width of your room to do a custom quote for you.
We have been the exclusive "preferred vendor'" for the YMCA, Gold's Gym, Powerhouse Gyms, and LA Fitness for over 13 years. We utilize the best commercial materials and components to construct their Pre-Cut Saunas.
As a permanent fixture or addition to your home, Scandia's Pre-Cut kits transform virtually any room into a beautiful, custom in-home sauna, providing added sophistication and next-level luxury. We cut our Spanish Cedar to your room's specifications, ship it to your door, and provide step-by-step installation instructions. 

Rooms must be prepared ahead of sauna installation, including studding, insulation, and 3/4" plywood for attaching paneling.
Sizes
1-3 People 
From: 36" X 48" X 84" -Â 60" X 72" X 84"
4-8 People
From: 48"D x 84"W x 84"H to 96"D x 96"W x 84"H
8+ People 
From: 96"D x 120"W x 84"H to 144"D x 144"W x 84"H
Features
Standard with two-tier benching on one wall & single-tier bench on the other wall (depending on size)
7/16" x 6" Spanish Cedar Tongue and Groove panels for all Walls and Ceiling (Vertical Installation) (T&G is 7/16" x 3")
1 "D x 4 "W Spanish Cedar Benches & Supports
Matching Trim for Ceiling, Corners, and Base
Standard with Stainless Steel Scandia Heater with External Controls
Pre-Hung Solid-Core Spanish Cedar Door w/ glass vision panel
Spanish Cedar Bench Skirts
Black True Tile Flooring for Walking Area (Does not cover under benches )
FSK Vapor Barrier
Vapor Proof Wall Light
Deluxe Wall Thermometer/Hygrometer
Wooden Bucket and Wooden Ladle
Hardware for Assembly
Euro-Trim Design
Call 1-888-503-8157 for Custom Orders
Available In
"Euro-Trim design" or "Full-Length" (for an extra 10% charge). Euro-trim design enables lower boards to be removed/replaced without replacing the entire wall. Full-length boards are also available up to 84" in length.
Custom Orders Available
We can cut the boards to your specifications if you list your dimensions when submitting the order, but the price will be rounded to the nearest 6" list price.
Heater Sizing
36" X 48" X 84" - 48" X 60" X 84": 3KW
48" X 72" X 84" - 60" X 72" X 84": 4.5KW
96"D x 108"W x 84"H & 108"D x 108"W x 84"H: 9KW
96"D x 120"W x 84"H to 132"D x 144"W x 84"H: 12KW
Secure and fast delivery

Every unit is well packaged in a heavy-duty crate and shipped as soon as it's ready. Our lead time are one of the lowest in the market.
Share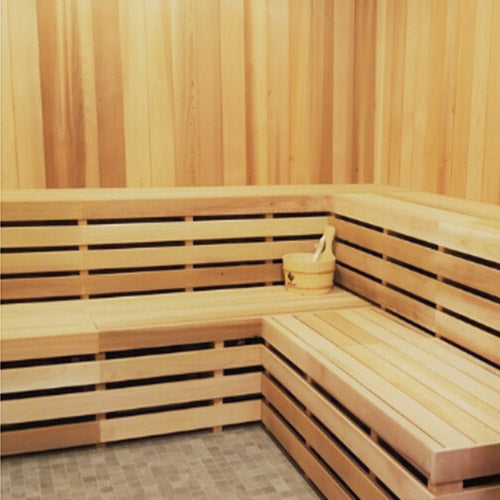 Scandia Manufacturing
We are a manufacturer of traditional saunas, steam rooms, sauna heaters, room kits, and accessories. We've been making the best sauna and steam room products since 1964. Come to us for all your sauna and steam room products.